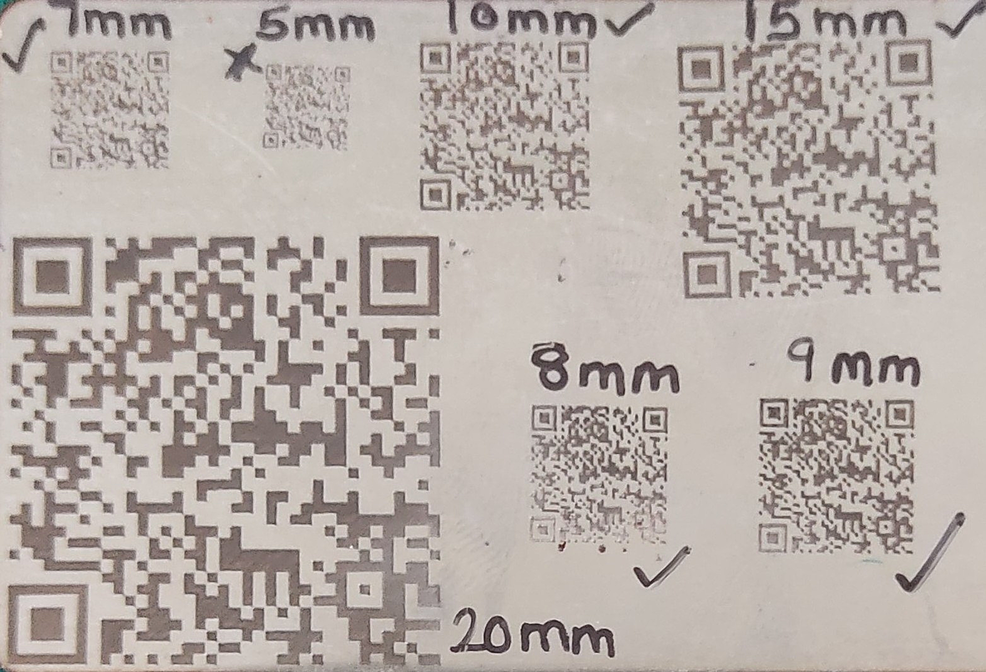 Marking dentures for forensic identification using a laser-marked stainless steel Quick Response (QR) code
Denture marking is an accurate and quick method to identify unknown individuals in social and forensic scenarios. Many published works have attempted to present different techniques for marking dental prostheses; however, not all of them meet the requirements in terms of cost, storage of a large amount of information and their ability to withstand high temperatures. Therefore, this article describes a simple, inexpensive, and feasible prosthesis marking system using a laser-marked stainless steel quick response (QR) code. A QR code was generated in the dental office, laser marked on a stainless steel strip and inserted into a mandibular prosthesis. The code was then read using an app downloaded to a mobile phone giving access to patient details. The code was created to store, edit and display large amounts of information with smartphones, allowing for quick identification.
introduction
The role of denture marking in social and forensic scenarios has long been recognized by forensic dentists and odontologists. It helps identify dentures and people in geriatric or post-mortem institutions during wars, crimes, and natural and mass disasters. During mass disasters or crimes of genocide, rapid identification of the deceased becomes a difficult task as the bodies are mostly mutilated beyond recognition. Dental identification has helped in many cases when other methods have failed. Quick identification is usually possible when an identification code is integrated into the prosthesis. Replacing lost dentures will cause a lot of inconvenience, as it involves getting used to the new fit and appearance. The replacement of a prosthesis also involves costs, the organization of a visit to the dentist, time and transport.
In the literature, prosthesis marking techniques are broadly divided into surface marking and embedding methods. Surface markers [1,2] are economical but can be easily removed by denture cleaners, abrasives or antiseptic mouthwashes. Surface inclusion techniques consist of the incorporation of a marker, which includes metallic or non-metallic materials [3]microchips [4]radio frequency identification tags [5,6]Micro SD card [7]barcodes [8-10]and lenticular card [11]very variable according to the technique of inclusion and the reading.
Embedding techniques using metallic and non-metallic tags contain very little information, even though they are cheap and readily available. Microchips, barcodes and radio frequency identification tags allow rapid identification by storing large amounts of information, but these techniques are expensive and require sophisticated equipment to read the information. In addition, the microchip data could only be entered by the manufacturer and not by the dentist. In the lenticular method, information can never be changed once inserted.
The use of quick response (QR) codes as a method of personal identification in dental prostheses has most of the requirements recommended in the literature, with the exception of high temperature resistance. QR coding of dental prostheses is simple and inexpensive, with the potential to store a large amount of information, thus enabling rapid and reliable identification, except for high temperature resistance [9]. The Swedish stainless steel ID-Band (SDI AB, Sweden) [12], which has become the international standard and the denture marking system accepted by the FDI World Dental Federation, can withstand temperatures up to 1100°C but cannot store a large amount of information. This article describes an innovative technique in which a laser is used to mark the QR code on a stainless steel strip, which is then inserted into the prosthesis, thus allowing the storage of enormous information as well as its resistance to high temperature.
Technical report
Generate a QR code containing patient details such as name, age, gender, address, medical history and Aadhar number with a code generator app (Barcode Generator, Kowloon, Hong Kong). Mark the code using a laser machine (KFD-10, Dongguan Kite Laser Technology Co., Ltd, Guangdong, China) on a 0.5 mm thick stainless steel sheet. Mark the code in different sizes of 6mm, 7mm, 8mm, 10mm and 15mm to confirm which code size can be decoded with the set-top compatible mobile camera (Figure 1).
7mm size can be decoded easily. Cut the code to a size of 7.2 x 7.2 mm. Process the prostheses according to the manufacturer's instructions. Start the embedding process after disinfecting, cleaning and drying the prosthesis. Cut a 0.6 mm depression slightly wider than the size of the identifier on the outer posterior lingual flange of the mandibular prosthesis using a carbide bur (Zhangjiagang Saimeng Tools Co., Ltd., Jiangsu, China). Embed the ID in the channel and fill the recess with clear self-curing acrylic resin (Rapid Repair, Dentsply Int'l, York, PA). In a pressure vessel, treat the denture (Confident Dental Equipments Private Limited, Bangalore, India) with hot water (1008F, 20 psi) for 15-20 minutes. Remove excess acrylic resin and finish and polish the prosthesis to complete the procedure (Figure 2).
Hold a mobile camera compatible with the code decoder against the prosthesis for the code to be decoded (Figure 3). The QR code will be translated into text on the mobile phone screen (Figure 4).
Discussion
Edentulous people have lost all or most key features, which makes the identification process much more difficult. Quick identification is usually possible when a small identification code is integrated into the prosthesis. The identification mark performs two important functions. First, it helps identify the prosthesis wearer, whether living or deceased; and second, it helps in the identification of dentures. The first is important in cases of amnesia, unconsciousness and autopsy, including forensic cases. The latter is important in geriatric and nursing facilities.
If lost or misplaced dentures are not tagged, they are highly unlikely to be returned to the owner. Such a scenario will cause a lot of inconvenience and problems for the patient as well as the family caregivers. It will also increase cost and emotional stress. Therefore, the importance of prosthesis identification should be considered.
In this article, the method of including a laser-marked stainless steel QR code differs from currently available denture-marking methods in a number of ways. The QR code stores a large volume of information. The dentist, already equipped with a smartphone, can use QR codes to quickly access patient information directly in the workplace.
Laser marking is a technique using a beam of light to alter the appearance of material to produce precise, high contrast markings on the surface that can be easily read or scanned. copper vapor laser [13] has been used to make very fine markings of a few microns to mark the cobalt-chromium components of dental prostheses. But this method stored very little information. In the suggested technique, in addition to storing huge data, the information can be viewed, added or subtracted after scanning the QR codes. Laser-marked QR codes on stainless steel wristbands can withstand high temperatures, have less risk of damage, and are more durable. Thermal tests revealed that metal markers are considered the most ideal for post-mortem identification [9].
The cost of the QR code is significantly lower than the cost of using a microchip or barcode system for identifying dentures. In the present technique, the marker can be inserted on the lingual flange of the mandibular and vestibular flange of the maxillary prosthesis. These sites are aesthetically acceptable and are not removed during routine adjustments or relining procedures. It does not interfere with oral function or denture strength due to its small size.
New and existing dentures that have not been labeled can be marked using this technique. It can also be used in all metal dentures where denture labeling is attempted. A dentist could easily perform this procedure on their own without the help of a dental technician. The only limitation involved in laser engraving is the availability of the laser engraving unit.
The ease of use of the laser-marked stainless steel QR code can allow anyone with a smartphone to access patient information in necessary situations, helping to reveal a person's positive identity when all other methods fail.
conclusion
The need for prosthesis marking is important for medico-legal and social reasons, in case patients need to be individually identified. This article describes a simple, inexpensive, and durable prosthesis labeling method that can store a large amount of information. The tag can be decoded with any smartphone by a forensic investigator on site, allowing rapid identification of the prosthesis wearer.