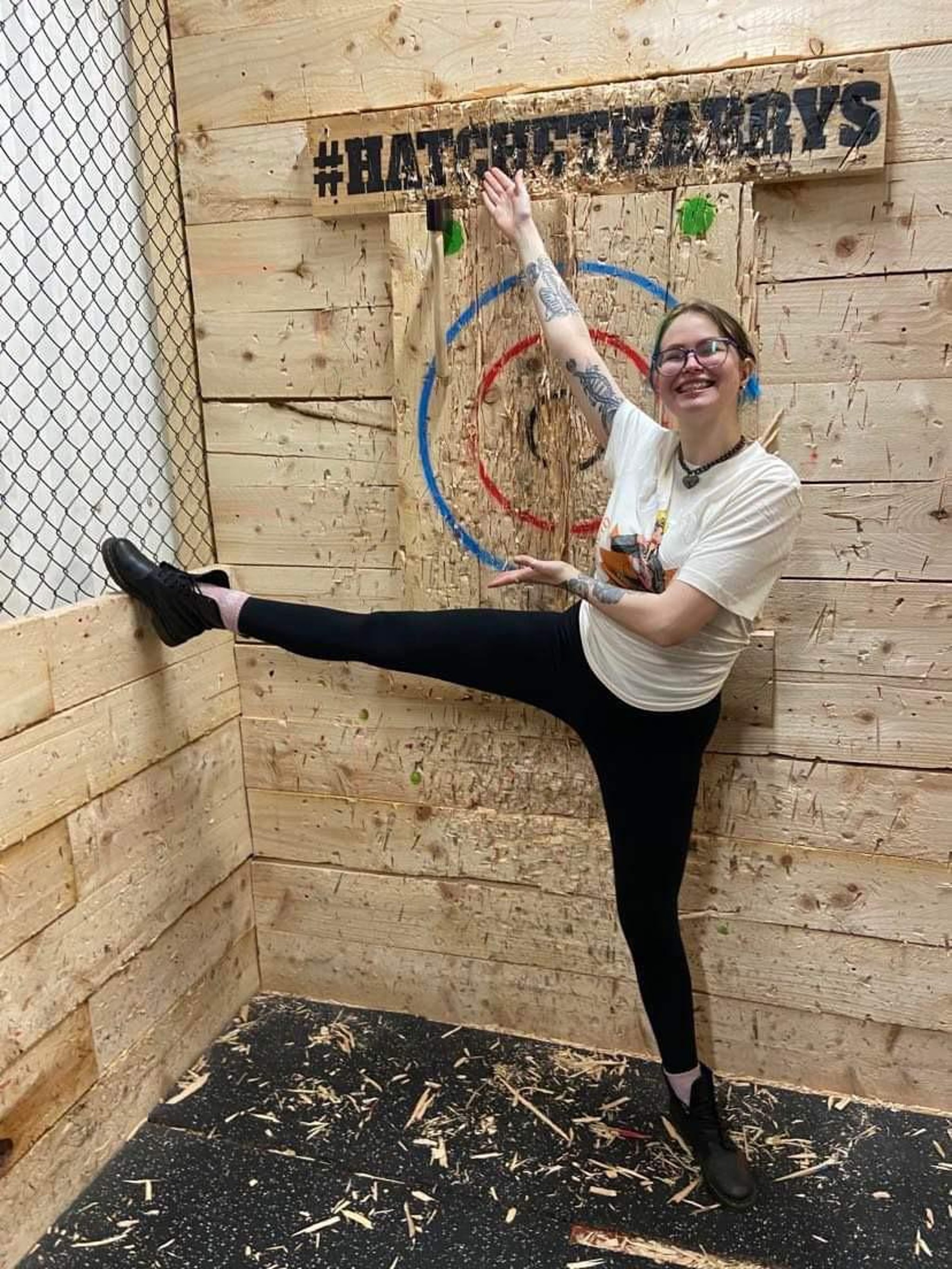 Meet Newcastle's ax throwing specialists who are tearing down the stereotypes
A Geordie ballerina shatters stereotypes of "boy's work" around the new ax throwing trend.
Ax throwing is an upcoming activity on the leisure scene with centers popping up around Newcastle and across the country.
The activity centers around participants throwing axes at a target, very similar to a shooting range.
It's a game for everyone, as a 5ft 6in ballerina from Newcastle proves.
Sinead Wynne is 18 and is one of two ax throwing coaches at Hatchet Harry's in Newcastle who shows customers how to hold the ax and guide them through competitions.
She holds the unusual post while studying at Gateshead College for a Level 3 Diploma in Commercial Dance, which includes ballet.
Sinead, from Newcastle, said: "What I love about the job is that you can see different groups and communicate with them and have a good craic with them.
"It's not as serious as a normal job, and it's fun.
"When I started I thought it was a boy's job, but since then I've gained confidence and like to surprise big groups of guys with my ax throwing skills, when they're like ' wooah!'
"Sometimes I have to shout over large groups, but this job helps me develop my communication skills."
Sinead is training as a dancer
When asked for advice for any other woman wanting to try this trendy new activity, Sinead added, "Do it, don't look at the concept that boys have to do it.
"If you watch football, girls also play football. There are a lot of girls who do it better than boys."
Sinead is joined at Hatchet Harry's by fellow trainer Shannon Smith.
Shannon is originally from near Redcar but now lives in Newcastle whilst studying for a forensic science degree at Teeside University.
Speaking about her role, Shannon said: "It's completely new to me – and I love it.
"It's a nice little stress reliever, and it doesn't really require strength – it all depends on your stance and your throwing skill."
Describing the reactions of men finding out they have a woman as a coach, she said: 'There were a few who were a bit concerned that I wasn't just staying behind the desk.
Shannon says ax throwing isn't just about strength
"Men tend to put all their strength into it, but it's not always about strength.
"There are a lot more women involved in sports than you might think.
"I find the funniest bachelorette parties – one group had a picture of the deer as their target.
"They're a bit more fun, whereas for men it's more about who can throw the hardest or the fastest."
Jack Beadle, who along with Richard Bridge is joint managing director of Hatchet Harry's, said: "Our aim is to bring ax throwing to everyone – it's not just for guys.
"As long as you can comfortably raise your arm above your head, you can participate.
"Axe throwing is all about technique, and whether you're male or female is irrelevant to your success."