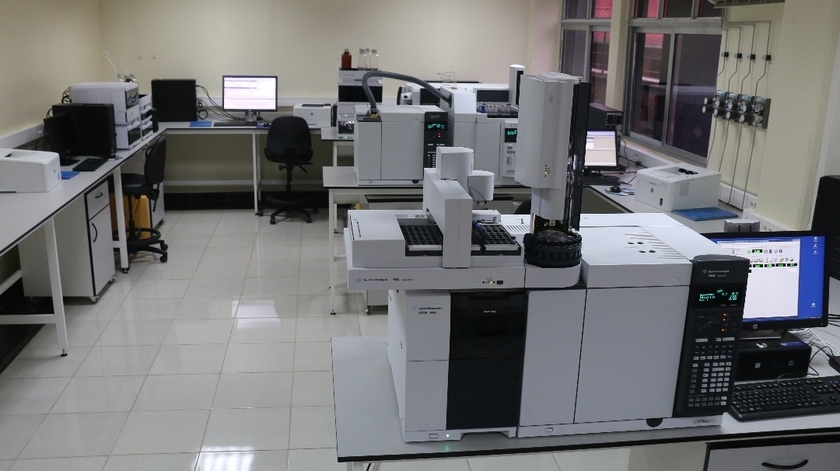 Most expensive DNA, paternity, ballistics – KT PRESS
Rwanda's Forensic Laboratory (RFL) has released a nearly three-fold reduction in the prices that will be charged to Rwandans seeking forensic services ranging from paternity testing to drug and alcohol testing.
It comes a week after RFL's partial inauguration with the promise of lowering the costs of performing forensic tests such as DNA, ballistics, forensics and digital forensics, which are costing the government millions.
Rwanda sends at least 800 samples a year to Belgium, where, for example, a DNA sample costs between 300,000 and 600,000 Rwf and takes at least three months to return home.
A new price list published and approved by Lt. Col. Charles Karangwa, chairman of the RFL board, shows that DNA testing will be billed in two ways.
The cost of a single sample of blood, saliva and semen stain will be 100,000 Rwf, while a non-express 3-sample paternity test will be charged 267,032 Rwf and an express test – 427,998 Rwf which is provided Within 24 hours and a respective week of the choice of service.
An express DNA test at a crime scene (crime spot) will cost 278,020 Rwf and in the case of an additional sample it will pay 142,000 Rwf and as little as 89,010 Rwf for an additional non-express test in this category.
On drug tests, the new prices will also allow Rwanda to reduce annual expenditure of 100 billion Rwandan francs for the reintegration of drug addicts.
A presumptive test for cannabis in the body will cost as little as 1,030 Rwf and adding a qualitative and quantitative test will go up to 3,092 Rwf and the cheapest being the test for acids with psychological effects at Rwf257 and Rwf773 for presumptive and complete testing respectively.
Tests for drug addicts that stimulate the central nervous system and metabolism (Amphetamine/methamphetamine) Sometimes by staying awake, energy will be charged around 3000 Rwf for a presumptive test and 3869 Rwf for a full test.
Meanwhile, the test on cocaine use will be low at Rwf644- (a presumptive test) and Rwf1, 932 (with qualitative and quantitative).
However, testing for compounds resembling opium in addictive properties or physiological effects will cost Rwf1030 and Rwf3092 – for a presumptive and complete test.
Tests for sedative drugs that slow down body functions – and are used for both sleep problems and anxiety range from around Rwf560 to Rwf, 740.
Testing biological samples for toxicology in each of these areas will be slightly expensive.
For example, opioid and cannabis tests will vary from 1200 Rwf and 5000 Rwf for presumptive and complete tests, while metabolism tests will cost 5772 Rwf and 17,318 Rwf and blood alcohol tests had a fixed price of 78 602 Rwf.
Document, Fingerprint Tests, Ballistics
Rwandans seeking to verify the authenticity of a document will pay 217,560 Rwf and for a detailed analysis part it will take 559,440 Rwf, while the analysis, recovery and examination of fingerprints will be between 1 000 and 37 000 Rwf.
For the analysis of handwriting and signature, one will pay Rwf155, 400 and Rwf186, 480.
Ballistics will be billed at Rwf43, 512 (for reports) and Rwf428, 785 for large caliber weapons, while photographs and videos will be billed at Rwf80, 808 and Rwf497, 280 respectively.
ICT gadgets
A package for a computer investigation will cost Rwf 325,000, and data services for smart phones which include SMS recovery, WhatsApp will cost Rwf 25,000 and Rwf 150,000 for forensic analysis of cell phones.
Although this service is not yet fully operational, performing a full autopsy on a corpse will cost 60,000 Rwf and reconstruction of the body, 10,000 Rwf for notification of the body (confirmation) and 15,000 Rwf per day for mortuary services.
If the cause of death is in doubt, the crime scene investigation will cost Rwf 25,000.