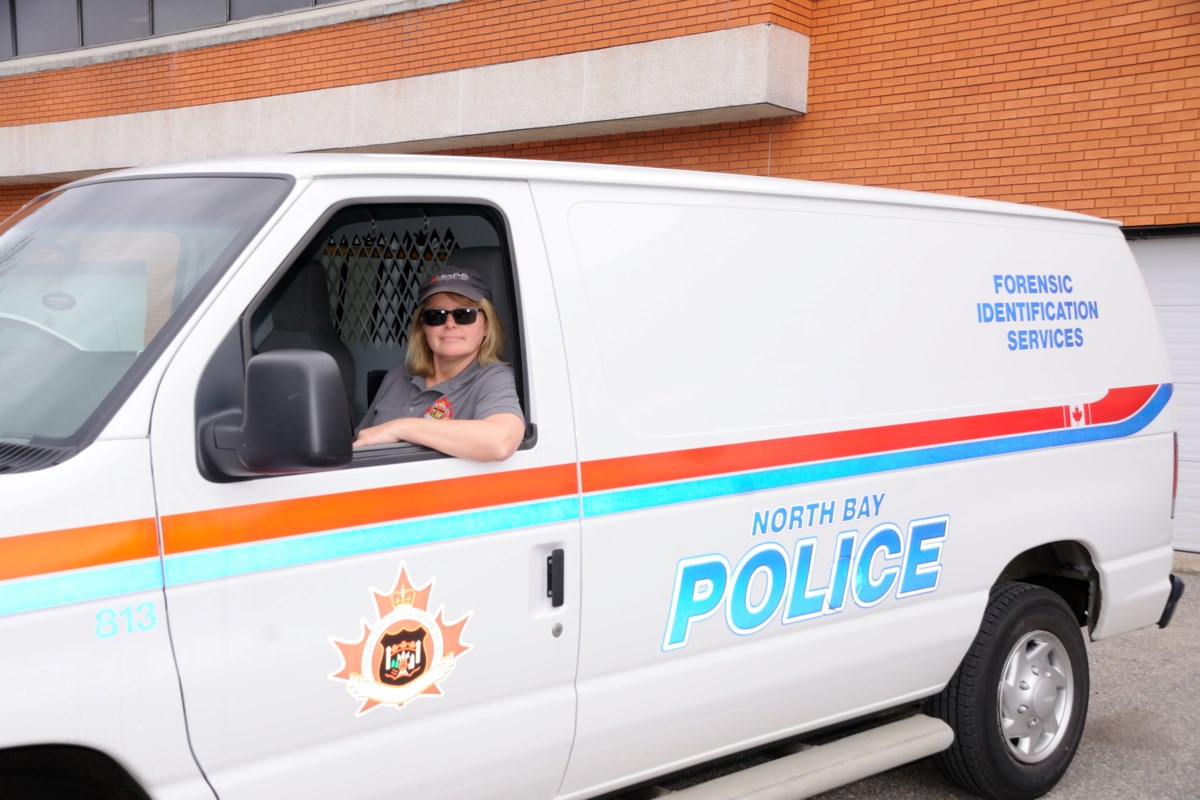 Police from the perspective of a forensic identification officer
People will see our forensic van in North Bay and Callander and automatically assume someone is dead. It's not always the case.
Editor's Note: This article was prepared by the North Bay Police Service as part of Police Week.
—–
As the North Bay Police Service joins police forces across the province in celebrating Police Week this week, and in keeping with this year's theme Discover Policing For Safer Communities, we invited our Forensic Identification Officer, Sandy Allary, to share her experiences of working with the public by answering the questions below.
When did you start working for the North Bay Police Department?
I was hired a little over 27 years ago, mainly to work in records management. I moved to the forensic unit about five years ago.
What attracted you to the job?
I was looking for a change, a new challenge. For me, forensic work has been an exciting new learning experience.
Why do you think you got the job?
I have a strong work ethic and a love of learning. From my many years in the police service, I have also gained valuable insight into how things work and how people in different roles work with each other. I felt I was ready for what the job would involve and confident that I had what it takes to do the job well.
Tell us about a typical day in your role. What are you doing?
I'm one of the two forensic identification officers who make up our unit. We both share the workload that happens anytime and any day of the week. We each work 10-hour shifts, four days (or four evenings) a week. We are also both on call during the hours when neither of us is on duty. We are responsible for all forensic work done in North Bay and Callander. We usually start the day by looking at incidents that may have happened late in the evening when we are not on duty. The patrollers will ask us to attend various crime scenes or they will bring evidence from scenes that require our attention. We will do fingerprint exams, victim photographs, photo sets and more.
During the shift, we are still waiting for interventions at the scene of active investigations. We perform comprehensive reviews of the scene of major incidents, such as violent crime, thefts, home invasions, to name a few. We also respond to break-ins, thefts, assaults, motor vehicle collisions and more. Sometimes we attend court to testify about the evidence that we have collected and processed.
What do you like about your job?
It's a never-ending challenge. Every survey is different. I really like the way I am constantly developing my knowledge. Every day offers the opportunity to learn new things. It is really interesting work. It is also gratifying when the evidence we collect is essential to help build a business. This is the raison d'être of forensic evidence, to find this hidden scientific evidence and bring it to the surface. It could be DNA evidence, a link to a fingerprint, or even a handwriting analysis. The Forensic Unit is an important part of the investigative team within the North Bay Police Service. It is always a good feeling when the unit can play a positive role in these cases.
What's the hardest part of your job?
I am often on stages where victims or family members are present. They are sometimes traumatized by the events and are often very emotional. When I'm there to do my job, I have to focus on the job at hand. Sometimes it's a challenge to find the right balance between professionalism and compassion. We may not be moved by these scenes, but that doesn't mean that I don't feel compassion for those who are grieving.
Public safety is a shared responsibility. Based on your experience in your current role, what safety message would you like to convey to the public?
Lock your doors! I have found in many scene reviews, on several occasions it was learned that the residence, garage and vehicle doors were not locked. This is probably the number one piece of advice I can give to anyone.
What's the one thing most people don't know about your job?
People may not be aware that the North Bay Police Department is one of the few police departments that has a fully civilian Forensic Identification Unit. This means that my partner and I are not police officers. We both attended the Ontario Police College to become fully trained and certified forensic identification officers. We have received the same training as the police officers who are trained in the same role. When I completed my basic forensic training at the OPC in 2011, I was the only civilian in a class of 12 police officers.
I have another point I would like to make. People will see our forensic van in North Bay and Callander and automatically assume someone is dead. It's not always the case. Yes, we see many home deaths, but that doesn't necessarily mean we're investigating a crime. We are often on site to help eliminate a criminal act.
What advice would you give to a teenager or young adult interested in exploring a career like yours?
I am an Accredited Forensic Identification Agent, as well as a Certified Expert Fingerprint Examiner. To attend the Ontario Police College and receive accredited training, you must be a member of a police service. I would suggest that a good start for those interested in a career in forensics is to study photography and science, as there is a chemical side to the exams as well. People often compare forensic work to TV shows like CSI Miami, New York, but in reality, a show like Forensic Files may be a better choice. The series is based on surveys and is more realistic than the fictional crime drama series.