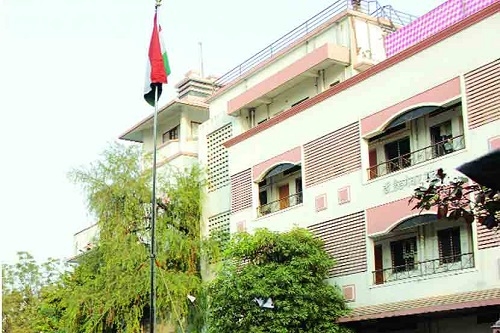 RSS HQ reconnaissance: JeM agent's mobile sent to cybercrime lab
Staff reporter
Counter Terrorist Squad (ATS), Nagpur seized the mobile phone of terrorist Jaish-e-Mohammed (JeM) from Jammu and Kashmir who had carried out reconnaissance of Dr. Hedgewar Smriti Bhavan from Rashtriya Swayamsevak Sangh (RSS) in Reshimbag in July last year. The phone was sent to the Cyber ​​Forensic Laboratory to recover data, specifically the video of Smriti Bhavan which was filmed by the terrorist and then deleted, officials said.
Raees Ahmed Sheikh Asadulla Sheikh (26), a resident of Khati Mohalla, Chandara, Awantipora Town of Pulwama District in J&K was questioned extensively by ATS. He was taken into custody by the court on Tuesday.
The official said Raees was in contact with a person named Omar, who is the operational commander of JeM's terrorist launch pad in Nawabpur, Pakistan. They were using WhatsApp call feature for interaction. Most of the phone calls were made by Raees via WhatsApp, the official claimed. The cops are trying to retrieve the WhatsApp to verify his contacts. The cops scramble to identify the person who has been tasked by JeM commanders to assist Raees in the reconnaissance operation. However, Raees conducted the operation by himself as no one contacted him in Nagpur.
It can be mentioned here that on July 14, Raees took an auto-rickshaw and reached Reshimbag with the help of Google Map. The location was sent by his handler, sources said. His objective was to effect recognition of Smriti Bhavan. He disembarked from the car near Reshibag ground in the afternoon. Raees reportedly told investigators he took video of Hedgewar Bhavan as he walked around Reshimbag grounds and claimed he was talking to someone on his mobile phone. He then shared the video with his manager on WhatsApp, but was reprimanded for the poor quality of the video. He was assigned to shoot the video again. However, fearing the police, Raees turned off his cell phone. According to sources, Raees then called the rickshaw driver and asked him to go to a mosque. The car driver dropped him off at a mosque near the Santra market gate where he stayed for the day and returned to the hotel in the evening. On July 15, Raees returned to Srinagar on a Nagpur-Delhi-Srinagar flight. Agent JeM will be returned to J&K next week, the official said.