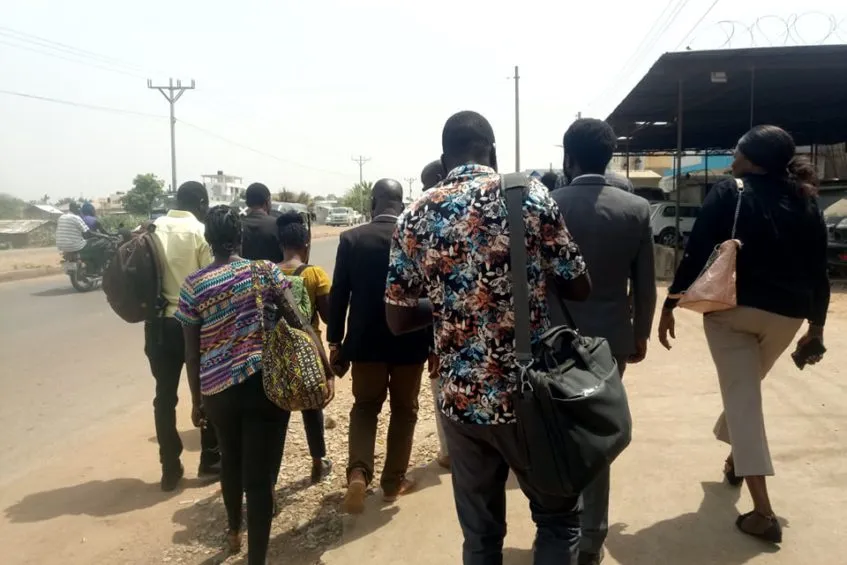 South Sudanese security forces threaten and briefly detain 8 journalists
New York, February 25, 2022 — South Sudanese authorities must stop harassing and threatening journalists for their work covering the country's parliament, the Committee to Protect Journalists said Friday.
Around 10 a.m. on Tuesday, February 22, agents from the country's National Security Service intelligence agency arrested eight journalists on the grounds of parliament in the capital, Juba, according to news reports, CPJ interviews with several of these journalists, and Patrick Oyet, president of the South Sudan Journalists Union, a local professional group, who spoke to CPJ by phone.
Journalists were covering a press conference attended by members of opposition parties when a group of NSS officers interrupted the briefing on the grounds that it was illegal, seized the journalists' recording devices and took them away. taken to the security office of the parliament, according to these sources. .
Among the journalists detained were reporters from the US Congress-funded Voice of America TV station, The city review newspaper, Radio Bakhita, Eye Radio, The Insider South Sudan news site, Citizen #1 newspaper and Radio Miraya, according to Oyet and journalists who spoke to CPJ, who said they were detained for about three hours and then released without charge.
"Authorities in South Sudan should ensure that journalists can effectively cover their country's politics, rather than detaining them for doing their job," said Angela Quintal, CPJ's Africa Program Coordinator. "The security forces' harassment and threats to journalists seeking to cover an event at the country's Legislative Assembly show how far the authorities are willing to go to control public discourse.
Voice of America reporter Winnie Cirino told CPJ that NSS agents detained her and the other journalists minutes after the press conference began. The Insider South Sudan Editor David Mono Danga, who also works as a reporter for Voice of America, told CPJ he believed they were arrested for covering an event organized by opposition politicians.
The press conference was aimed at addressing the intimidation of opposition journalists and lawmakers, as well as alleged government mismanagement, according to a press release from lawmakers who held the conference, which CPJ reviewed.
NSS officers 'decided to put it all on us journalists' The city review journalist Keji Janefer told CPJ. "They insisted it was our fault."
At the parliament's security office, NSS agents attempted to interview each journalist individually, but the journalists refused and said they had to stay in groups; the officers then accused them of violating the rules regarding the coverage of the legislature, The city review journalist Sheila Ponnie told CPJ.
After about an hour, the police took the journalists by bus to an NSS office on Bilpam Road, also in Juba, Ponnie said.
Cirino told CPJ that agents detained the journalists in groups in this office, seized their phones, then locked them in a room inside the building, where an officer briefed them on how they should conduct their work.
After an hour, NSS officers released the journalists without charge and returned their recorders and phones, but told them to delete any recordings of the press conference and threatened that if the journalists' media published stories covering the conference, officers would hold them personally responsible, Cirino and Ponnie said.
"It was a serious threat to our lives," Danga said. "It's a threat to my life and my family."
Keji said it was "very bad when security personnel start marking you, given the environment we operate in".
South Sudan ranked fourth on CPJ's 2021 Impunity Index, which calculates the number of unsolved journalist killings as a percentage of a country's population.
Cirino, Danga and Keji added that they were concerned about the security of the information on their phones, as NSS agents had taken them out of sight while in custody. CPJ has documented how digital forensics technology can be used to extract contacts and other information from journalists' devices.
Cirino told CPJ that while at the parliament's security office, journalists communicated with Oyet and other journalists, who raised awareness about the detentions on social media. Cirino and Keji said she believed Oyet's outreach and intervention at the Bilpam Road office helped secure their release without charge.
Separately, Ponnie told CPJ that NSS agents in parliament arrested her while she was working last week, ordered her to hand over her phone and, after she refused, forced her to delete the recordings she she had done.
When CPJ called NSS Homeland Security Office public relations director David John Kumuri for comment, he said he would call back after 30 minutes, but he did not. CPJ called him several times but he did not answer.
Parliamentary spokesman John Agany Deng told CPJ in a phone interview that the Feb. 22 press conference was "fundamentally illegal" and denied that the journalists were "arrested," before the quality of the calls showed. become too bad to understand it; he did not respond to subsequent calls from CPJ.
In media interviews aired this week, he defended the actions of NSS officers and alleged that the press conference was unlawful and that proper media procedures were not followed.
CPJ also called Elijah Alier, director general of the South Sudan Media Authority, and Sapana Abuyi, director general of the Media Information and Compliance Authority, but the calls did not go through. succeeded.